Hey 👋
I'm Caspar, the founder of Keepthescore.com and this is our first EVER newsletter. You are part of this historic moment 🎉
From now on, we intend to send a short monthly list of new stuff we've made so that you are always up-to-date. We aim to keep things simple and honest with no pointless fluff or marketing speak.
Without further ado, let's get to it!
1. Leaderboard "quick add" buttons
This makes updating leaderboards much quicker and simpler. You no longer need 2 clicks and separate screens to update your leaderboards.
2. Leaderboard animations
When players on a leaderboard change their position, there is now an animation. It's great for when you're doing a live event.
3. For power-users: Bulk Editing of leaderboards
This is a bit like uploading an Excel file or spreadsheet into your leaderboard -- but even simpler. You have to activate this first (click on SETTINGS > Rankings and Scores > Enable bulk data entry) and then you can update scores and players in one text box. This means you can also copy-and-paste from Excel, Google Sheets, or wherever you keep your scores.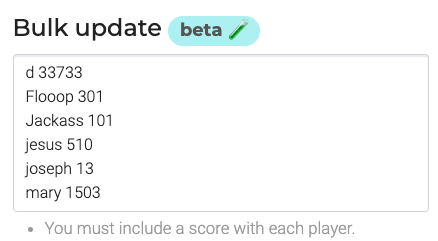 By the way, you can also create a leaderboard using this method. Click here to create an instant, cut-and-paste, leaderboard.
That's all folks!
Thanks for making it this far. As a reward I'll let you into a secret: you can reply to this newsletter and I will answer. How about that? Feedback on this newsletter is also very welcome.
So long for now,
Caspar