Gamify your
sales in seconds
Create and share simple leaderboards with your team. Add gamification to your sales process. No complex integrations.
More fun,
more performance
Gamification works. It increases motivation, competition and overall positive outcomes. Create a leaderboard for your team in seconds and try it yourself.
How to create a sales leaderboard
Works on any device
You can update, edit and create boards from your laptop, desktop, mobile phone, iPad or tablet. It works on iOS, Android, Windows and Mac. You just need a browser and internet!
Competitions for the win
Contests are a good way to motivate your team. With a virtual leaderboard you can make them work remotely or on-site.
Ideas for a sales competition
Create a prospecting dashboard
Have you tried a prospecting day? It's all about energy and enthusiasm. Not only do events like this top up the sales pipeline, they are also a very effective way of building cameradie in a team.
How to run a prospecting day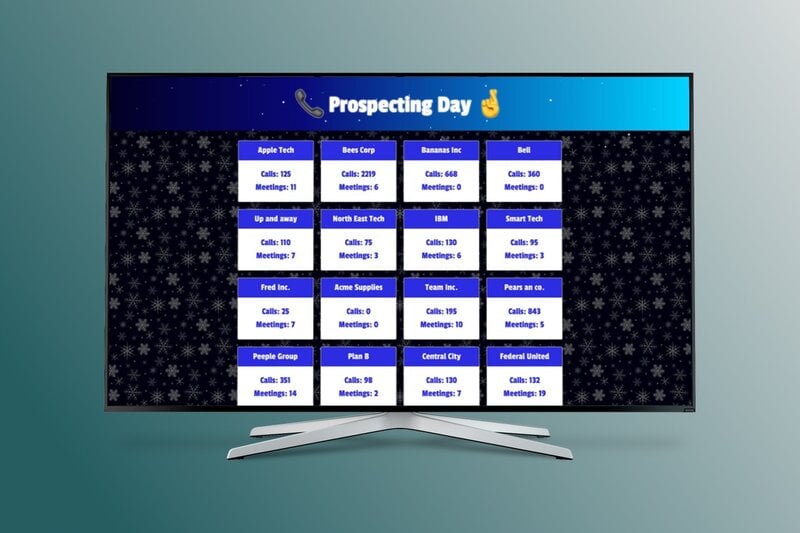 Trusted by thousands world-wide
200 000
Visitors per month
Reasons for using KeepTheScore
Animated and real-time
Guaranteed to WOW your audience. Awesome for live events. Works entirely in the browser without any special software required.
Collaborate and share
Sharing a scoreboard is as simple as sending a link via Whatsapp or email. You can also share a public (read-only) link.
No app install
Tired of installing apps? So are we. Everyone can participate without installing anything.
Fully customizable
Set the colors of the players, use your own brand colors and upload a logo or other image.
Live chat
Each board has the ability to show user comments, including animated gifs or other images.
Download as image
Download a high-resolution PNG image of your scoreboard or leaderboard any time to use in presentations or documents.
Wow guys, what a great app, thank you for all your work to get it up and running, I'm using it to stream my son's rugby games in South Africa!

Lance
I want to thank you for making an amazing score board that my friends and I are going to use for quarterly 'friendship point' counts for silly things like weekly competitions and so forth.

Nathan
Hey I just wanna say you rock! I will use this for my students and there are 36 of them 😍. 90% of them are from less fortunate family so I had to think of something to encourage them to join my class.
Cate
The added feature of being able to search for someone on a board is GENIUS! Thank you for constantly updating, love the service!

Roman
I've created a leaderboard with a goal for the participants to achieve. Thanks for creating such a great feature.

Addie
I was just recently looking for a leaderboard website for my students and I found your website just perfect for what am I looking for!

Tom