Fundraising is hard. It requires thorough planning and execution. Once it's underway, one of the challenges is drawing attention to your initiative, keeping people updated, and keeping donors coming back.
One relatively easy way to update (and motivate) everybody involved is setting up a leaderboard and sharing it. Here's an example of the band Metallica using a leaderboard for their fundraising activities.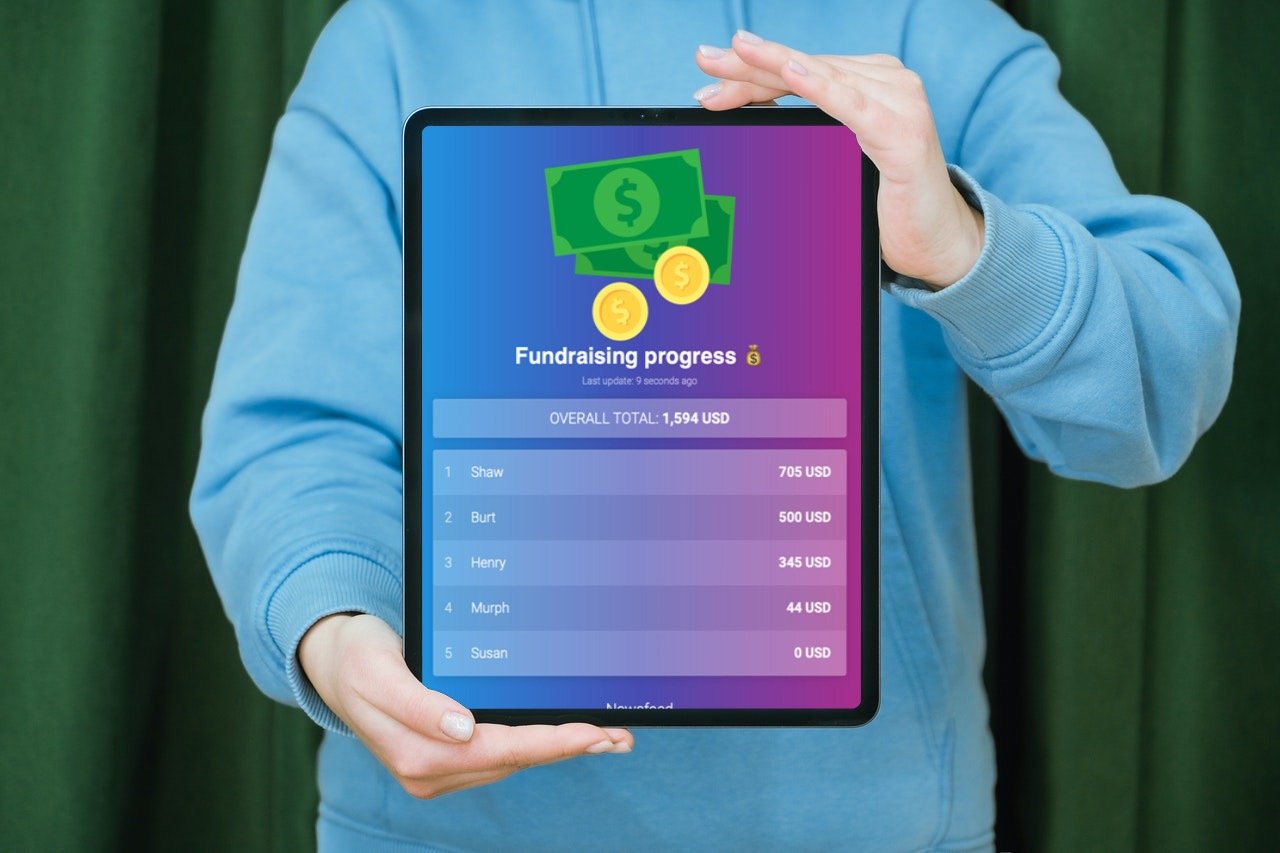 Why use a leaderboard for fundraising?
Having a central place to track progress is an efficient way to literally get everyone on the same page. If the leaderboard is visually appealing then success is (almost) guaranteed.
In this post we'll look at one easy and low-cost solution for creating fundraising leaderboards.
But before we get into that, here are some questions that you should ask yourself initially. This will help you get a better idea of your requirements:
Where will the leaderboard be shown? On a live-screen, embedded in your website, or as a stand-alone link?
Who has the task of updating the data?
Do you plan on showing contributions per individual or just the overall donated total?
Will your audience be mainly internal (i.e. your team, employees or volunteers) or external?
Where and how will your audience be consuming the information? On their phones? In the office? On the go?
Are you fundraising towards a specified goal (e.g. 3.000 USD) or is your fundraising open-ended?
Once you have thought about and discussed these questions, it's time to dive in.
Using Keepthescore.com
Keepthescore.com is aimed at individuals and organizations that need a cost-effective and simple solution. The leaderboards can be created quickly and will not cost you a vast amount of money. In fact, if you are a non-profit organization, we will give away the leaderboard for free (just write us an email).
How do I create a leaderboard?
You can create a leaderboard exactly like the Metallica example mentioned above. Just proceed as follows:
First, you need to go to this page and create a leaderboard. You can do this without registering or providing an email address.
By the way, you must enter all participants who will be contributing. Further participants can be added later.
Your leaderboard has now been created ✨.
Click on the SETTINGS > Ranking and scores at the top of your leaderboard.
Enter a value in the Units field, for instance "USD".
Click on Engagement and then select the Show box with overall total for the whole board checkbox.
Optionally enter a Progress bar goal value in the box below.
Click "SAVE". Now your leaderboard is read to go.
Click the "PUBLISH" button at the top of your board. Choose how you want to publish or share your leaderboard. For instance, to embed it on a WordPress site, read this documentation: WordPress plugin.
That's it!
Automatically updating embedded leaderboards
Once you have created your leaderboard and embedded it elsewhere, it is easy to update. You do not need to touch the embed code again -- unlike many other solutions out there. To update you use the admin link to your leaderboard -- all integrated widgets will update automatically ✨.
Maybe a fundraising thermometer is better?
If you don't need to show the individual contributions, then a fundraising thermometer might be a better option. It's a simple and effective way to show the progress of your fundraiser.
Keepthescore.com also offers a fundraising thermometer that you can also embed on your website. It's free and easy to use.
Examples of themes
We offer a variety of themes to really make your leaderboard "pop" and give a highly professional (or fun) look-and-feel to your efforts.
To see all available themes take a look here.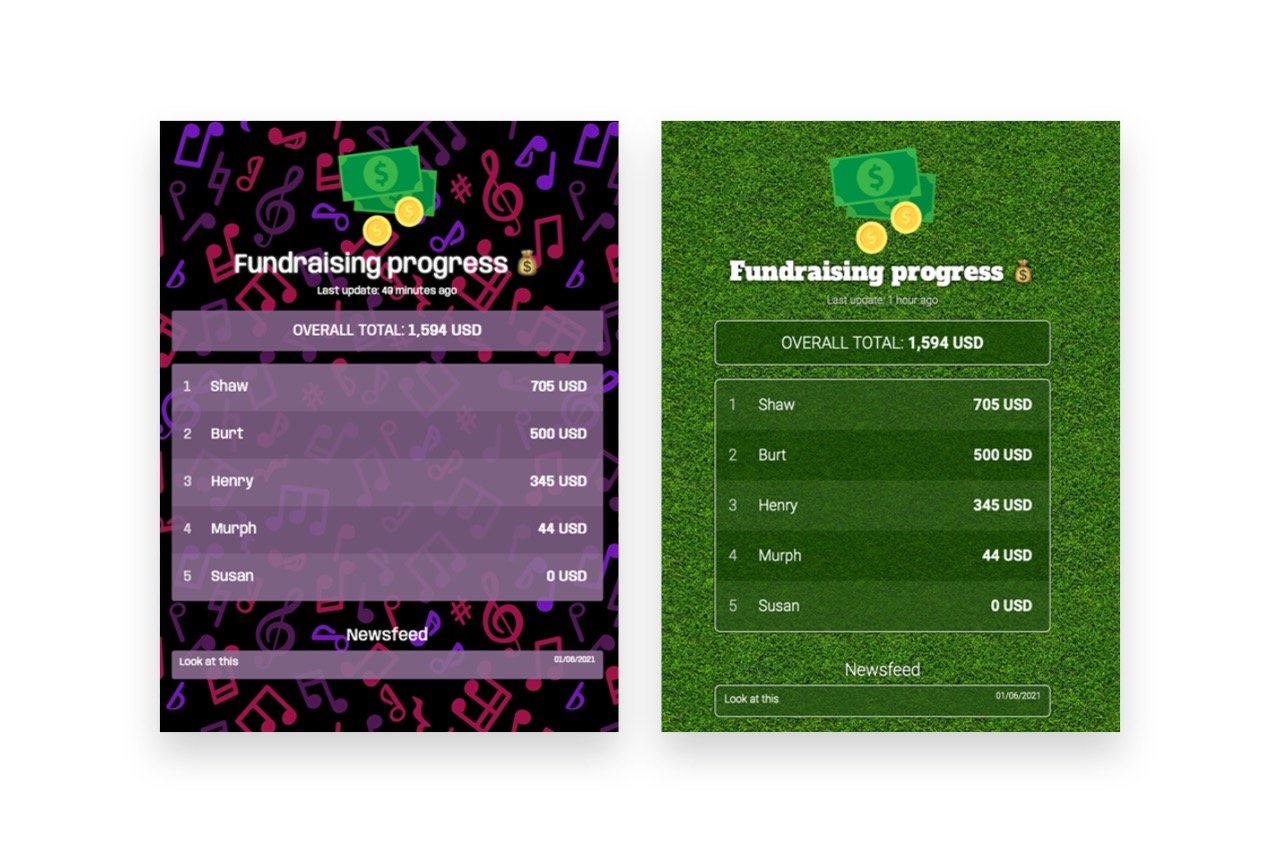 6 benefits of using a leaderboard for fundraising
To sum up, here are 6 reasons why you should use a leaderboard in your next fundraising campaign:
It's great for boosting motivation for your volunteers & supporters especially for fundraisers that last a long time.
They track the progress of your fundraiser in a fun and informative way
It helps raise awareness about your fundraiser. You can share a link to the fundraiser on any channel you wish.
It's simple: Embedding our widget on your website will literally take 3 minutes.
It's visual: A leaderboard allows potential donors to see what you've raised, how fast you're getting there and how significant their contribution has been. It can encourage donors to give more by turning the process into a game.
It helps build momentum: Regularly updating your leaderboard will animate the team to notice when donations are coming in (and if they're not) and keeps them going during the middle weeks of a campaign when things tend to slow down.
Please give us feedback!
Do you have a question, feedback, or a feature request?
Great! We answer every message within 1 working day (sometimes on the weekend too). You can reach us in the following ways:
We love feature requests, but it depends on whether we think it'll be useful to other users and how much effort it'll be.