Fundraising thermometers provide an engaging way to track progress towards a fundraising target. By incorporating one into your campaign, you can tap into the natural human desire to reach milestones, and — hopefully — boost donations.
In this post we'll look at one easy and low-cost solution for creating your own fundraising thermometer.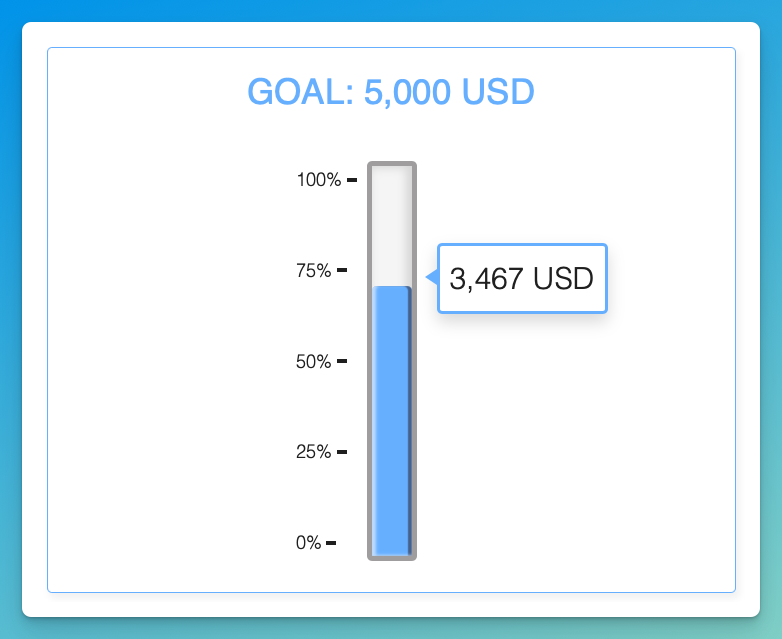 Before you get started
But before we get into that, here are some questions that you should ask yourself initially. This will help you get a better idea of your requirements:
How do you intend to display the thermometer? As a live screen, integrated into your website, or as an independent link?
Who will be responsible for updating the information?
Do you plan to showcase individual contributions or just the cumulative total?
Is your target audience primarily internal (e.g., your team, employees, or volunteers) or external?
How and where will your audience access the information? On their phones? At work? While commuting?
Are you working towards a specific fundraising goal (e.g., $3,000), or is your campaign open-ended?
Once you have thought about and discussed these questions, it's time to dive in.
Using Keepthescore.com
Keepthescore.com is aimed at individuals and organizations that need a cost-effective and simple solution.
It has the following advantages over other online goal tracking tools:
It comes with a number of ready-made themes for (almost) any occasion.
The thermometers come with their own individual link, so they work as a "stand-alone" webpage too. However, you can also download a high-resolution image if you prefer.
If you use the thermometer as a standalone page, you can enable live comments which are great for community engagement.
It's easy to embed a thermometer on your website as a widget. See here for an example. You can use the embed code or our WordPress plugin to do this.
You can use it in a live-stream, for instance with OBS, (Streamlabs)[/blog/posts/streamlabs-live-scoreboard/], or XSplit.
It updates automatically and your data is stored in the cloud. You don't need to touch the embed code again once it is integrated.
It works on any device. You can use it on your phone, tablet, or computer.
How much does it cost?
The basic functionality is free and supported by ads. If you want to remove the ads, you can upgrade to a premium account for 15 USD /month.
How do I create a goal / fundraising thermometer?
Proceed as follows:
First, you need to go to this page and click on "START HERE". You can do this without registering or providing an email address.
Your thermometer has now been created ✨.
You can change the theme and colors by clicking on "COLORS AND THEMES" in the control panel.
To share, download or embed your thermometer, click on "PUBLISH" button in the control panel and then follow the instructions.
That's it, you're done!
Automatically updating your thermometer
To update your numbers, simply make adjustments on the original "admin page" that you landed on after creating the thermometer. Any changes you make (including the theme, colors, and the target amount) will be automatically reflected on the thermometer page and any widgets.
Maybe a leaderboard is better?
If you want to show the names of individual contributions, then a leaderboard might be a better option. Go here to create a leaderboard.
6 benefits of using a thermometer for fundraising
To sum up, here are 6 reasons why you should use a leaderboard in your next fundraising campaign:
It's great for boosting motivation for your volunteers & supporters especially for fundraisers that last a long time.
They track the progress of your fundraiser in a fun and informative way
It helps raise awareness about your fundraiser. You can share a link to the fundraiser on any channel you wish.
It's simple: Embedding our widget on your website will literally take 3 minutes.
It's visual: A thermometer allows potential donors to see what you've raised, how fast you're getting there and how significant their contribution has been. It can encourage donors to give more by turning the process into a game.
It helps build momentum: Regularly updating your leaderboard will animate the team to notice when donations are coming in (and if they're not) and keeps them going during the middle weeks of a campaign when things tend to slow down.
Please give us feedback!
Do you have a question, feedback, or a feature request?
Great! We answer every message within 1 working day (sometimes on the weekend too). Write us an email here.