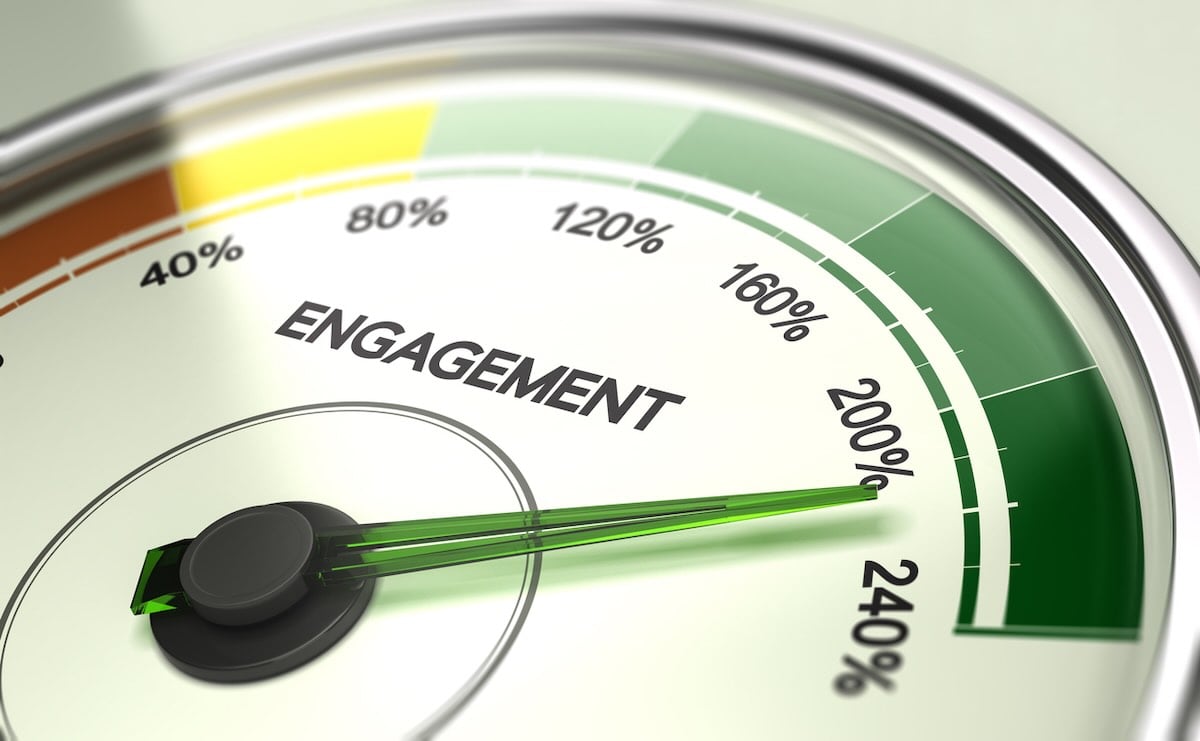 Employee engagement refers to the level of enthusiasm and dedication an employee feels toward their job and company. It's about more than just being satisfied with a job; it's about being actively connected and emotionally invested in their work and the goals of the organization.
Engaged employees typically feel a sense of purpose and contribution in their roles. They're often more productive, creative, and willing to go the extra mile, which not only benefits their personal growth but also significantly impacts the success and health of the business.
There are a large number of software tools and products catering to employee engagement. They broadly fall into three categories:
tools to measure engagement, such as survey tools
tools to boost engagement, using gamification
tools to reward engagement
Many of them are complex, quite pricey and sometimes require deep integrations into your existing software. In this post, we'll look at a very simple tool to boost engagement. It's a good place to start, because you can set it up quickly and then iterate.
Keepthescore.com leaderboards: simple, effective, fun
At Keepthescore.com, we've designed our leaderboards to cut through the complexity and offer a straightforward, fun solution for boosting engagement. Unlike other tools that can be heavy and pricey, our app is all about easy setup, instant recognition, and customization to your team's specific needs.
Setting up is a breeze, meaning you can get started without any tech headaches. Our leaderboards update in real-time, providing immediate feedback.
Once you have created a leaderboard, you can share it via a link, embed it on a page ( like Sharepoint) or display it on a TV in the office.
What to measure on your leaderboard
Choosing the right metrics to track on your leaderboard is essential. Here are six ideas to get you started:
Sales Performance: Track who's selling the most, either individually or by teams. It's a classic metric that's easy to quantify and always relevant.

Team Goal Completion: Measure teams based on the percentage of quarterly goals they've completed. It's great for keeping everyone aligned and focused on common objectives.

Dev Team Efficiency: Look at the number of bugs or incidents in production. Recognizing the dev teams with the least issues encourages a focus on quality and efficiency in coding.

Customer Satisfaction in Support: Track support teams or individuals based on customer satisfaction scores. Happy customers are often the best indicator of excellent service.

Innovation and Improvement Initiatives: Consider measuring contributions to process improvements or innovative solutions. This encourages creative thinking and problem-solving beyond daily tasks.

Attendance and Punctuality: Recognize those with consistent attendance and punctuality. It might seem basic, but it's fundamental to smooth team operations and often goes unnoticed.
By tracking these metrics, you can encourage a range of positive behaviors and outcomes, from sales and customer service to quality coding and innovation. Remember, the key is to choose metrics that align with your overall business goals and team culture.
How to create your first leaderboard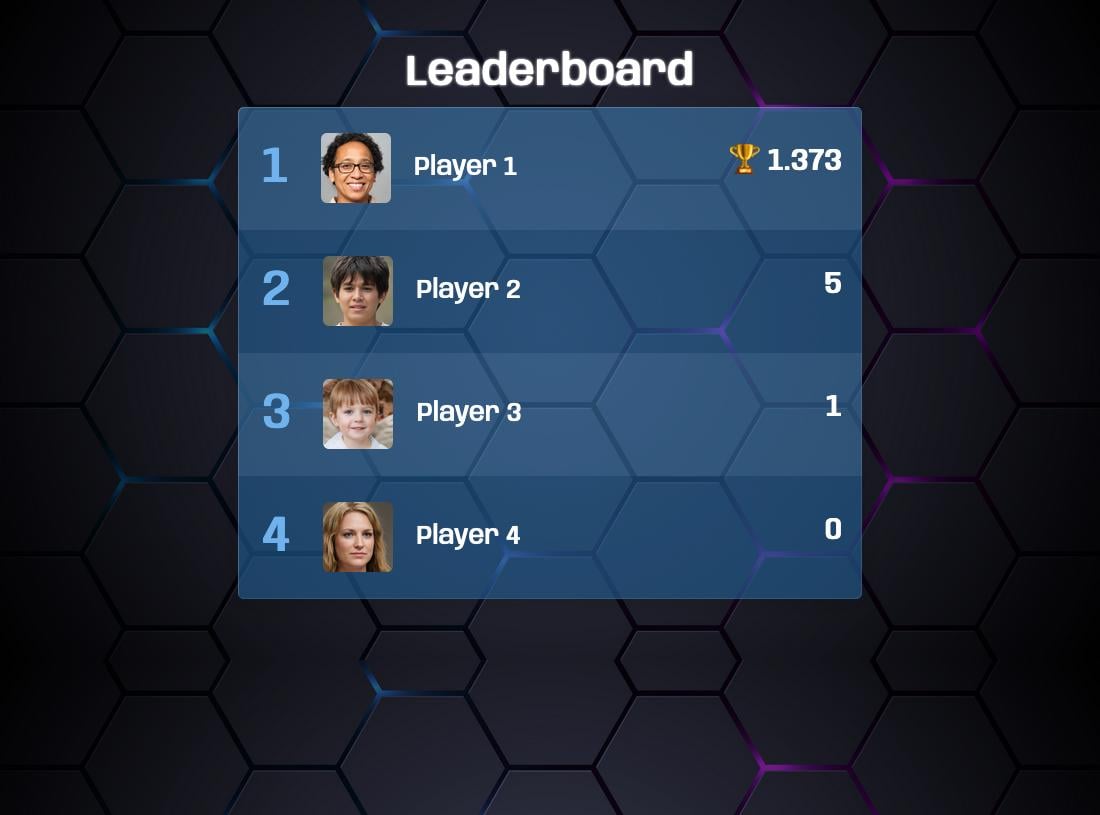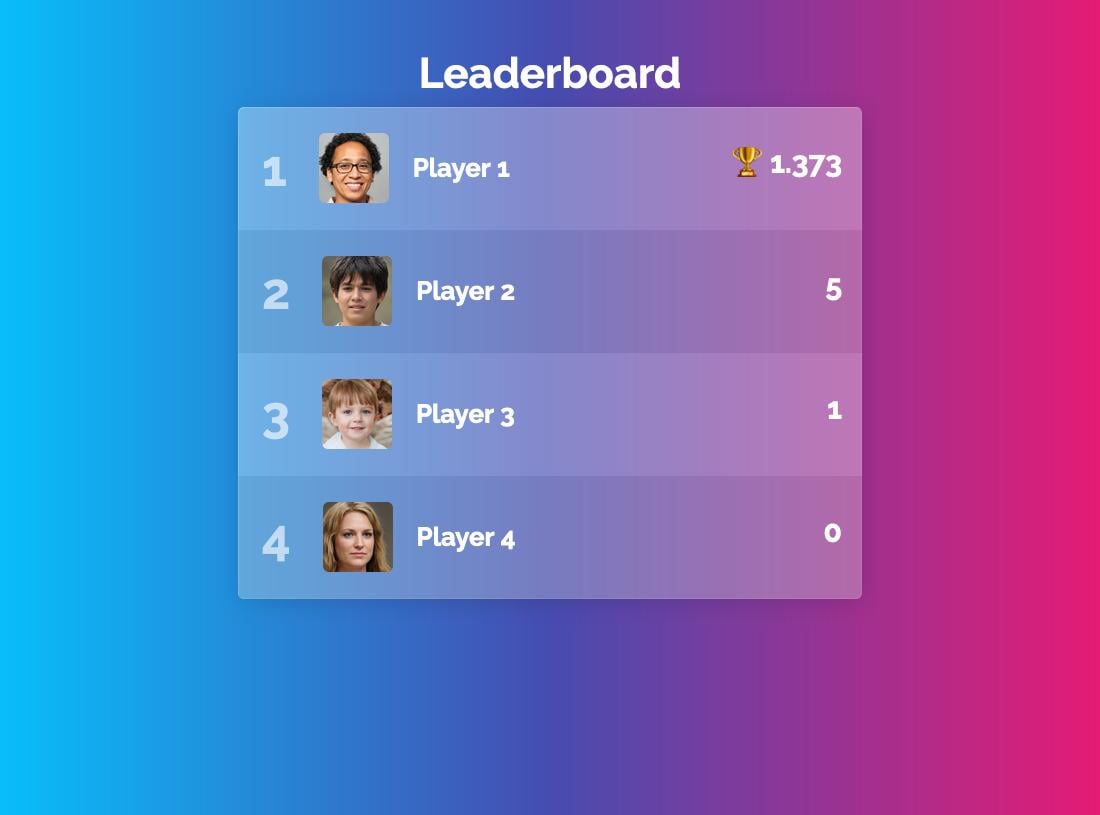 You can set up a leaderboard like the ones shown above very quickly and easily.
First, click on the above 👆 button and enter some basic data about your leaderboard. Click on NEXT to continue.
On the next screen you can add the "players". This is where you enter your team member names.
Click on "CREATE BOARD" and you will see your newly created leaderboard.
The final step is to customize it according to your needs. Click on the SETTINGS button, go to the "Select a theme" dropdown and choose a theme that suits you. After that you can try changing colors and even the font.
That's it, you are done!
💡 Tip: If you have paid membership you can also upload images and logos to your leaderboard.
🚀 If our standard leaderboards are not what you require, we also build fully-customized solutions:
find our more here.
Employee Engagement Action Plan
To wrap up, here's a list of steps that you can take to set up your own employee engagement leaderboard.
Identify Key Metrics: Start by selecting relevant metrics to track. These could be sales numbers, goal completions, customer satisfaction scores, etc., based on your business needs.

Set Up Your Leaderboard: Use Keepthescore.com to quickly set up your leaderboard. Focus on simplicity and clarity. Remember, you want something that everyone can understand at a glance.

Communicate the Purpose: Clearly communicate to your team why you're implementing the leaderboard. Make sure they understand it's a tool for motivation and recognition, not just surveillance.

Launch with Enthusiasm: Kick off your leaderboard with some excitement. Consider a small launch event or meeting to explain how it works and to build interest.

Regular Updates and Feedback: Keep the leaderboard updated regularly and provide ongoing feedback. Celebrate achievements in team meetings to give recognition where it's due.

Iterate and Adapt: Listen to feedback from your team regarding the leaderboard. Be open to making changes to keep it relevant and engaging.

Incorporate Rewards: Consider tying some tangible rewards or recognition to leaderboard standings. This could range from simple shout-outs in meetings to small tokens of appreciation or performance bonuses.

Track Engagement Levels: Observe changes in engagement levels and productivity. Use feedback and performance data to measure the impact of your leaderboard.

Expand or Scale Back: Depending on the success and reception, you can either expand your use of leaderboards to other teams and metrics, or scale back if it's not fitting your team's culture.

Maintain a Positive Approach: Always use the leaderboard to promote a positive, encouraging workplace culture. It should never be a source of stress or negative competition among team members.
Remember, the goal of the leaderboard is to create a more engaging, dynamic, and fun work environment. It should enhance your team's cohesion and drive, not undermine it. Keep it light, encouraging, and always aligned with your team's values and objectives.